"Kissed An Angel Carved In Stone,"
WOW that will just rip you up. Lots of good stuff on this CD. Got this from "Roots"... Sorry took so long. I hate it when I miss latching onto something fast. #2,3,4,5,6,7,8***,10,11,14 all good.

-Jim Jenkins, WAGS radio
T. Edwin Doss is thrilled to be a winner in the 22nd Annual Great American Song Contest. "Hidin' in the Hills of Tennessee" was chosen as a one of the Top 5 Winners in the Country Music Category. You can view the list of 2020 GASC Winners here. He also received a finalist award in two other categories.

You can listen to the tune here:
HIDIN' IN THE HILLS OF TENNESSEE
by T. Edwin Doss
_____________________________

We are happy to announce the the song "Gonna Be A Blue Elvis Christmas" was chosen as a First Place Winner in the Special category of the 15th Annual Great American Song Contest.

In addition, "I Want To Hear You Laugh" scored in the top 5 in the Lyric writing category.<
The T. Edwin Doss website and song will be featured on this year's GASC Hall of Fame.

GONNA BE A BLUE ELVIS CHRISTMAS
featuring the great Paul Bell on guitar

I WANT TO HEAR YOU LAUGH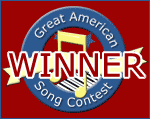 We are thrilled to announce that the song "On a Cold, Cold, Christmas Day" was selected as a winner in the Singer-Songwriter Category of the 14th Annual Great American Song Contest.

T. Edwin also made the finalists in the Country category for "One Eyed Wilena," and the tune "He Did His Best Work On Wood" - a collaboration co-written with Jon Carroll also made the finals in the Christian category.

BONUS TRACK:
T. Edwin and John Carroll co-wrote this powerful, inspirational contemporary Christian song. Sung by Jon Carroll:

HE DID HIS BEST WORK ON WOOD
This song received a runner-up placement in the Song of the Year contest. In addition we won first place in the inspirational category of the Dallas Songwriting Contest.

Lyrics & Song Samples for "T Edwin Doss" Sampler

ONE-EYED WELINA
Finalist in the Great American Song Contest,
Country Category

ON A COLD, COLD CHRISTMAS DAY
winner of the Great American Song Contest

I'LL BE COMING HOME SOON
Finalist in the Great American Song Contest,
Singer/Songwriter Category
Lyrics & Song Samples for "Out On Rocky's Run"
nominated for 4 Wammies in 2010
#1 on Roots Rock Radio for 2 weeks
SMOKE & MIRRORS
Honorable Mention in the MASC Awards
JUICY FRUIT
Honorable Mention in the MASC Awards

EVERYBODY BELIEVES THAT BUT ME
'BAMA HAYRIDE
Silver Winner in the MASC Awards
RADIO FLYER
Honorable Mention in the MASC Awards